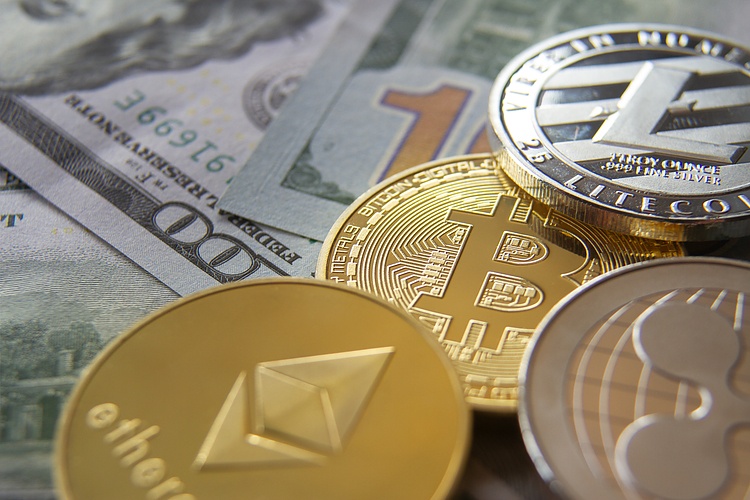 Share:

Bitcoin price is up 5% after breaking consolidation but could lose ground covered amid growing overhead pressure.
Ethereum price must hold above $1,630 support or risk falling back to consolidation with Grayscale victory effect fading.
Ripple price's tether to 200-day EMA at $0.5251, exposes XRP to the risk of a 7% dip.
After prolonged consolidation, the market found impulse when Grayscale secured a victory against the US Securities and Exchange Commission (SEC). Bitcoin (BTC), Ethereum (ETH), and Ripple (XRP) prices rallied, along with the broader market. It did not take long, however, before traders started cashing in on these gains to quench their profit appetite after a longstanding "inactionable" market characterized by shrinking volatility. 
Also Read: Bitcoin traders exercise caution ahead of US Core PCE Price Index release
Bitcoin price readies for next move
Bitcoin (BTC) price sits on the 200-day Exponential Moving Average (EMA) at $27,175. The Relative Strength Index (RSI) shows falling momentum and BTC could head lower, potentially revisiting the immediate support at $25,999.
In a dire case, the slump could send Bitcoin price to the psychological $24,000 level, constituting a 10% drop from current levels.
BTC/USDT 1-day chart
However, if sidelined bulls or late buyers come in, Bitcoin price could forge north, shattering the resistance confluence between the 50- and 100-day EMA that rejected the August 29 intra-day high of $28,142. A strong breach above this roadblock would clear the way for BTC to test the supply zone at around $29,170.
If the order block fails to hold as a resistance, the psychological $30,000 would be an area of interest, with robust seller momentum expected around the $30,385, an overlay between two supply zones where aggressive selling behavior is expected. For a confirmed uptrend, however, BTC must record a decisive daily candlestick close above $31,439.
Also Read: Spot Bitcoin ETF has a 75% chance of approval in 2023, analysts say
Ethereum price could lose the $1,630 support level
Ethereum (ETH) price rallied almost 7% following the Grayscale announcement, but like BTC, profit-taking is already underway. This is indicated by a falling RSI. If bears continue having their way, ETH could extend south after losing the $1,701 support level. The next support level at $1,630 could provide a subsequent entry point for bulls, but failure could see the proof-of-stake (PoS) token slide lower to find support around $1,552 potentially.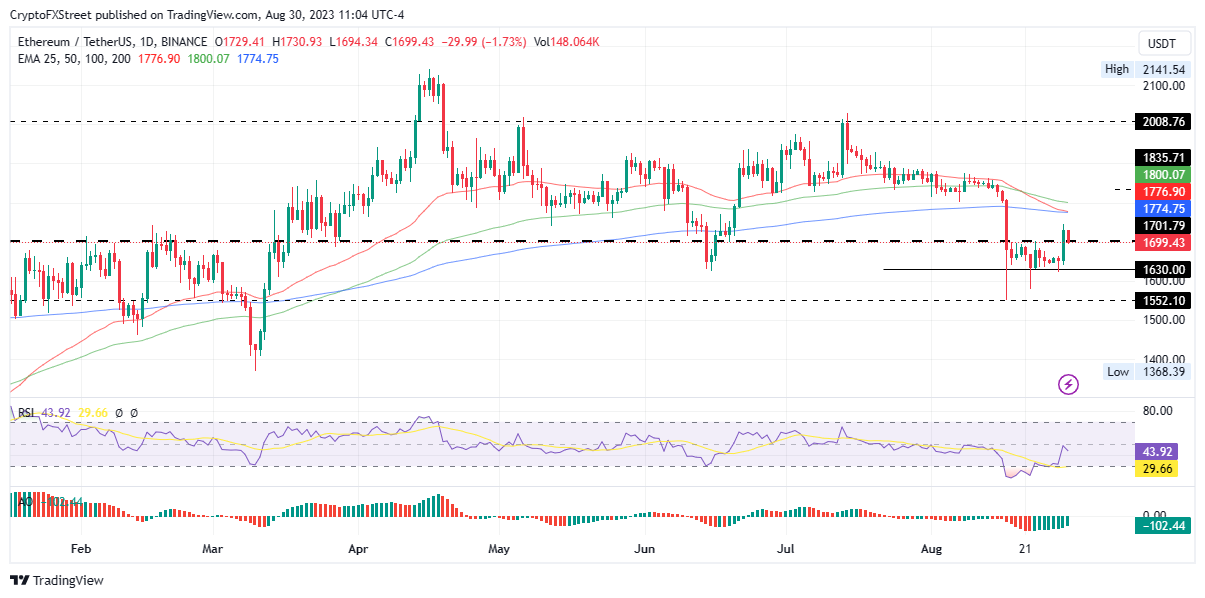 ETH/USDT 1-day chart
Conversely, Ethereum price could extend north if sidelined investors come in. The ensuing buying pressure will likely send ETH past the resistance confluence between the 200- and 50-day EMA at $1,774 and $1,776, respectively, before a confrontation with the 100-day EMA at $1,800.
In the highly bullish case, a foray past the psychological $2,000 is likely, with Ethereum price likely to tag the $2,008 resistance level.
Also Read: Ethereum is eyeing $1500 support with A-B-C drop
Ripple price tethered to 200-day EMA
Ripple (XRP) price must break its tether to the 200-day EMA at $0.5251 for the next move. The remittance token has been consolidating along this level since August 18. The RSI momentum indicator suggests the price could fall, possibly dipping into the demand zone between $0.5040 and $0.4600. A decisive daily candlestick close below the mean threshold at $0.4800 would increase the odds for a continued downtrend, potentially sending XRP down 10% to $0.4191.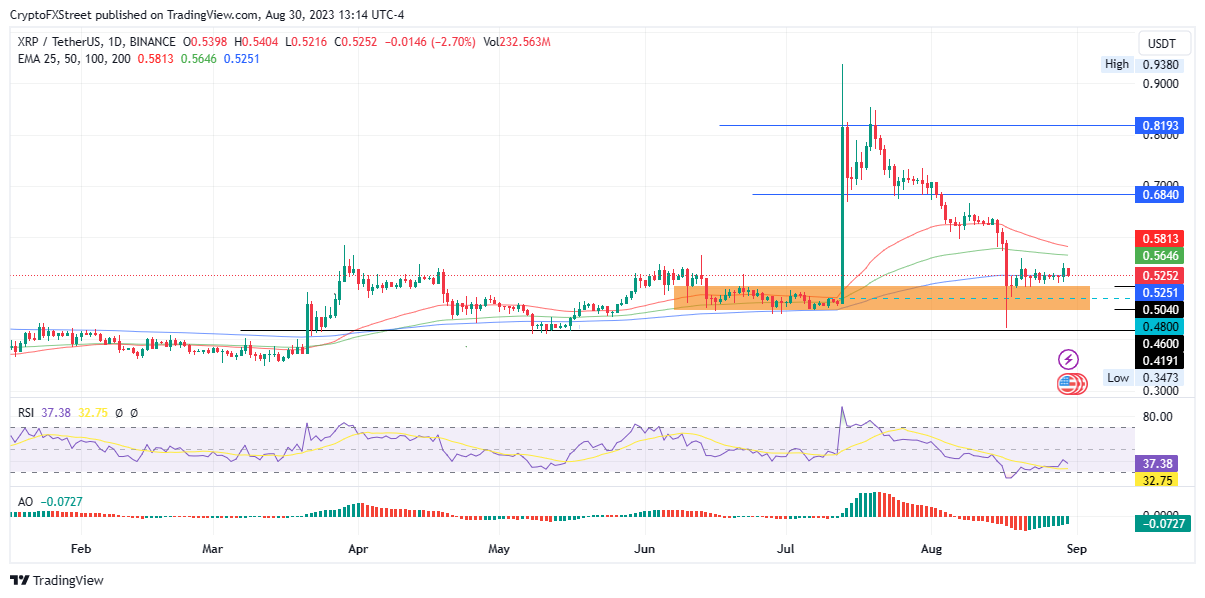 XRP/USDT 1-day chart
Conversely, a move north may see Ripple price breach the 100- and 50-day EMAs at $0.5646 and $0.5813, respectively. A sustained uptrend could see XRP confront the $0.6840 level, but in a highly bullish case, the move north could send the payments token to the August 19 highs around $0.8193.
Also Read: XRP price risks decline to $0.41, amidst developments in SEC vs. Ripple lawsuit
SEC vs Ripple lawsuit FAQs
It depends on the transaction, according to a court ruling released on July 14:
For institutional investors or over-the-counter sales, XRP is a security.
For retail investors who bought the token via programmatic sales on exchanges, on-demand liquidity services and other platforms, XRP is not a security.
The United States Securities & Exchange Commission (SEC) accused Ripple and its executives of raising more than $1.3 billion through an unregistered asset offering of the XRP token.
While the judge ruled that programmatic sales aren't considered securities, sales of XRP tokens to institutional investors are indeed investment contracts. In this last case, Ripple did breach the US securities law and will need to keep litigating over the around $729 million it received under written contracts.
The ruling offers a partial win for both Ripple and the SEC, depending on what one looks at.
Ripple gets a big win over the fact that programmatic sales aren't considered securities, and this could bode well for the broader crypto sector as most of the assets eyed by the SEC's crackdown are handled by decentralized entities that sold their tokens mostly to retail investors via exchange platforms, experts say.
Still, the ruling doesn't help much to answer the key question of what makes a digital asset a security, so it isn't clear yet if this lawsuit will set precedent for other open cases that affect dozens of digital assets. Topics such as which is the right degree of decentralization to avoid the "security" label or where to draw the line between institutional and programmatic sales are likely to persist.
The SEC has stepped up its enforcement actions toward the blockchain and digital assets industry, filing charges against platforms such as Coinbase or Binance for allegedly violating the US Securities law. The SEC claims that the majority of crypto assets are securities and thus subject to strict regulation.
While defendants can use parts of Ripple's ruling in their favor, the SEC can also find reasons in it to keep its current strategy of regulation by enforcement.
The court decision is a partial summary judgment. The ruling can be appealed once a final judgment is issued or if the judge allows it before then. The case is in a pretrial phase, in which both Ripple and the SEC still have the chance to settle.
---