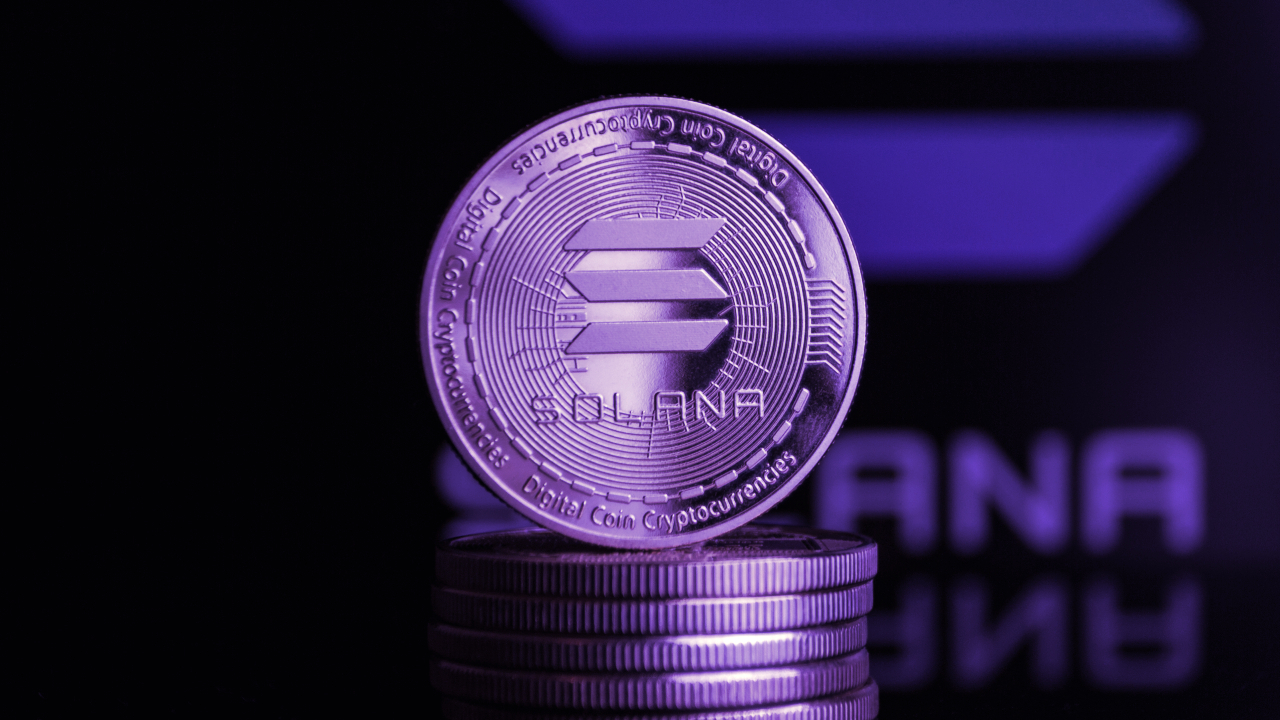 Solana (SOL) shows signs of recovery as the broader crypto market has recorded slightly bullish momentum. This change follows after some days of downtrend in the prices of most crypto assets.
As of 05:26 EST on August 29, Solana trades at $20.32, reflecting a slight increase over the past 24 hours. Earlier today, SOL surged to $20.73 due to the increasing bullish momentum.
Though some altcoins are still red today, Solana has defiled the trend, creating a new direction. Could SOL be the new king of DeFi, and can it sustain the bullish wave?
SOL Could Record Twist in Performance
The chart shows that SOL trades below the 50-day and 200-day Simple Moving Averages (SMAs), indicating a bearish trend. Also, the Moving Average Convergence Divergence MACD trades below the signal line with red histogram bars signifying bearish activities in the market.
The Relative Strength Index of 37 suggests that the SOL price is approaching the oversold zone, and a possible trend reversal could follow suit if the price reaches this level.
The combination of the above indicators points towards a short-term bearish price movement for SOL and an overall long-term market outlook for the asset.
However, investors should explore other tools before making a trade decision, as the crypto market is always prone to high price volatility and market fluctuations.
SOL's Support and Resistance Levels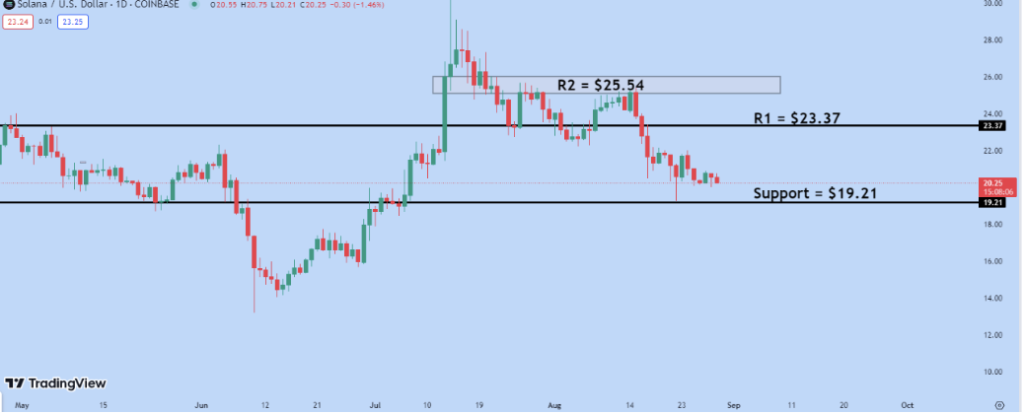 The chart above reveals that the SOL/USD pair is under the influence of the bears. So, any further increment in selling pressure could drop SOL's market value to the $19.21 support.
However, if the bulls take control of the SOL/USD market today, they might hold the buying pressure for the next few days, taking the coin's price to the resistance level of $23.37.
If the action of the bull forces SOL's market value above this resistance zone, traders could get excited and accumulate more quantities of the asset. This positive market status may increase the coin's worth, making SOL hit the next resistance level of $25.54 in the next couple of weeks. 
Solana's Outstanding Partnerships and Developments Could Trigger SOL's Rally
Collaboration With Shopify
Solana and most protocols built on the Solana blockchain have recently sealed several partnerships with prominent and giant entities. One of the great collaborations for Solana is with Shopify. The partnership brought about the integration of Shopify with Solana Pay.
1/ 🛍️Shopify 🤝Solana Pay

Today, Solana Pay integrates with @Shopify, empowering the millions of entrepreneurs and merchants on Shopify to accept fast, web3 native payments with no transaction fees through the end of 2023.

Learn more 👇 pic.twitter.com/QEb1LzqS51

— Solana (@solana) August 23, 2023
Shopify is one of the giant companies in the US that constitute up to 10% of all the e-commerce activities in the country. Usually, its credit card fee ranges from 1.5% to 3.5%.
But with the collaboration with Solana Pay, Shopify users will enjoy fast and Web3-based payments at no transaction fees till the end of 2023.
Both customers and merchants will benefit immensely from Web3 and NFT-based shopping, cross-border payments, token-centered offers, and more.
Also, the collaboration opens up the use of SOL as the essential token for transactions, increasing its demand and potential for explosive price rallies.
Partnership With Maple Finance
🔑 Key Features of Cash Management on Solana:

💰 Accepts USDC-spl
🎯 Targets a net APY of the 1M US Tbill rate less fees
⚡️ Interest accrues immediately
🔁Daily liquidity
📈Fees of 0.5% annualized, no fees to deposit or withdraw pic.twitter.com/cQhtmulJ5n

— Maple (@maplefinance) August 23, 2023
Solana is also partnering with a treasury management solution, Maple Finance, that focuses on investment backed by US Treasury Bills. The collaboration is a Cash Management Solution on Solana for Web3 treasuries and DAOs operating on the Solana blockchain.
Maple offers conservative returns on idle funds, and the deal will see interest paid with SOL. This move could further drive the price of SOL to the north. 
The launch date for the solution will be in early September 2023.
Developments On Solana Blockchain
Solana is one of the prominent and fast-growing blockchains in the crypto industry. Its popularity could be linked to high scalability, speedy execution of transactions, and innovative developments on the blockchain.
The Only-Possible-On-Solana campaign points out the distinguishing attributes of Solana from other blockchains. These include the network's lightning-fast consensus, scalable technology, parallel transactions, compressed NFTs, etc.
Innovation. Scalability. Community.
Discover what sets Solana apart.
Built on the foundation you created.#OnlyPossibleOnSolana pic.twitter.com/ajfoIW43PP

— Solana (@solana) August 21, 2023
Solana has more than 21.9 million minted NFTs and 11.5 million active accounts. Also, it claims to execute 4,566 transactions per second at an average cost of $0.00025 per transaction, which is much cheaper compared to most networks in the industry.
Solana's growing developments and innovative applications add to the utility of SOL and increase its potential for a rally in the market.
Could SOL Lead in DeFi Space?
Despite the hazy appearance of Solana's short-term price trend, the token could significantly boost the long-term outlook.
According to data from DeFi Llama, Solana's total value locked (TVL) is $310.58 million. The deal represents the USD value of all digital assets locked within the blockchain's smart contracts. 
Solana's market cap sits at $8.27 billion. It's possible to witness a bullish market run that could trigger a solid rally for SOL and push its market cap higher than the current level. 
But while investors await a price rally for SOL, they could cash out quickly with a ground-breaking memecoin Wall Street Memes offering an affordable entry point for early investors. 
Solana (SOL) Alternative for Investors – Wall Street Memes (WSM)
With the increasing frenzy in the adoption and use of memes, most investors in the crypto space are turning to meme coins. 
Wall Street Memes (WSM) is an excellent Solana alternative for meme coin investors. The token offers an engaging platform leveraging low-cost presale offers to boost investors' returns.
Surprisingly, the token's emergence brought a revolution within the meme sector as it witnessed significant progress in its performance.
WSM's Tokenomics, Staking Program for Users
The team before WSM projected a distinctive tokenomics that would facilitate its growth and increase its adoption. Wall Street Memes has a total supply of 2 billion WSM coins. One billion tokens, representing 50% of the pool, are set aside for marketing.
30% is allocated to community rewards, and 10% each is reserved for CEX and DEX, respectively. Further, the project offers a staking program that allows WSM holders to engage and secure yields of high value. Users could earn passive income up to 100% APY
 by staking the coins.
The WSM staking pool already has approximately 150 million tokens locked up, indicating its adoption and impressive feat within a short period. Also, the team plans to list WSM on tier-1 exchanges following the end of its presale final stage. The move will ensure the sustainability and relevance of the meme coin on a long-term basis.
Some prominent crypto experts, analysts, and YouTubers see WSM as a meme coin with colossal potential to rally in the future. 
Wall Street Memes Presale Reaches Final Stage
WSM has been running its presale, which is currently at its final stage. The project generated over $25 million through its presale, reflecting its uniqueness and attractive investment benefits.
Also, its exciting community indicates unparalleled support that triggers its scaling capacities and attraction to meme coin enthusiasts.
The presale is now at the final stage at a low price of $0.0337. The project has made a last call for potential investors to buy WSM coins before its official exchange listing.
According to WSM's official website, the presale has less than one month to end. Investors should rush to the platform to purchase the token using ETH, USDT, or a bank's credit/debit card.
Related Articles:
Wall Street Memes – Next Big Crypto
Early Access Presale Live Now
Established Community of Stocks & Crypto Traders
Featured on BeInCrypto, Bitcoinist, Yahoo Finance
Rated Best Crypto to Buy Now In Meme Coin Sector
Team Behind OpenSea NFT Collection – Wall St Bulls
Tweets Replied to by Elon Musk