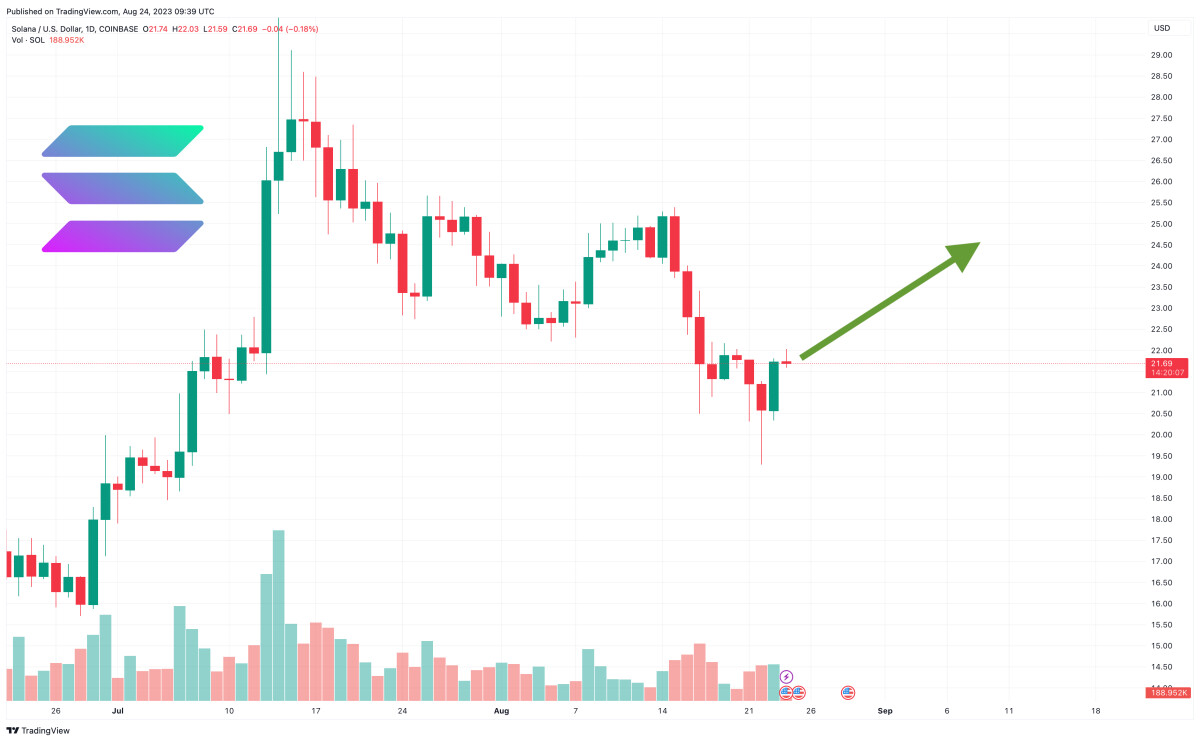 The Solana price has gained by 4.5% in the past 24 hours, with its move to $21.72 coming as the cryptocurrency market as a whole recovers modestly after recent selloffs.
Despite today's bounce, SOL remains down by 6% in a week and by 10% in the past fortnight, although the altcoin remains up by over 110% since the beginning of the year.
Such a year-to-date gain has been helped by Solana's strong progress as a network in recent months, while yesterday brought the news that Solana Pay has integrated with Shopify in order to provide Solana-based USDC payments.
And with SOL's 24-hour trading volume remaining above $400 million, it's very likely that further gains may be incoming in the next few days.
Solana Price Prediction as $420 Million Sends SOL Up 4% in 24 Hours – Are Whales Buying?
Solana's indicators are in a good position, insofar as they suggest that the altcoin remains undervalued yet is ready to rebound very soon.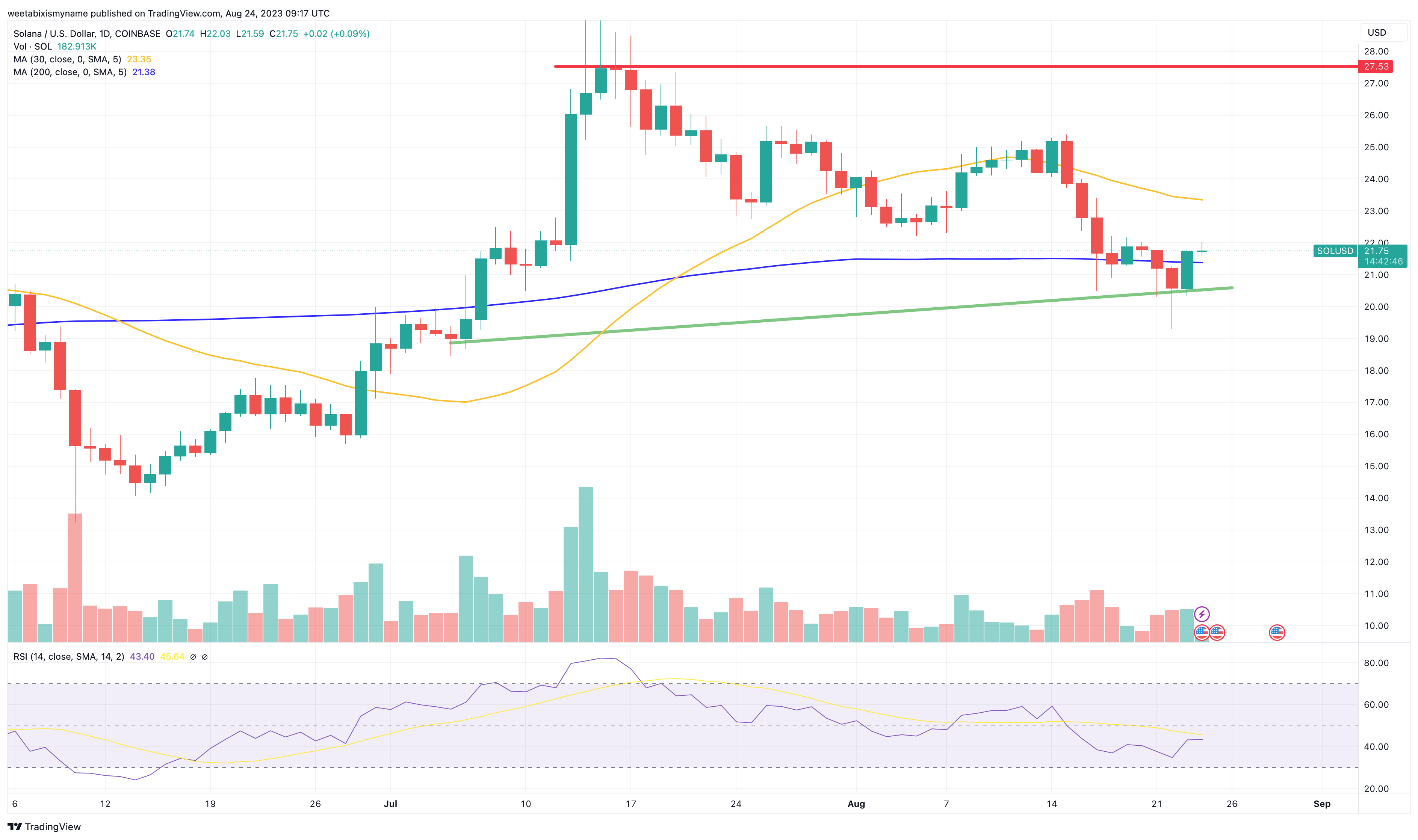 Indeed, with SOL's relative strength index (purple) rising above 40 today, it seems as though it's beginning to regather enough momentum to launch a rally in the very near future.
Given that it has risen by 4.5% in 24 hours, it's likely that such a rally has just begun, as also suggested by the coin's 30-day moving average (yellow), which has stopped falling and now looks as though it will begin rising again.
But seeing as how SOL's price is still below this average, there's plenty of room for the token to surge further before it becomes overbought.
There are a couple of reasons as to why SOL has outperformed most other major cryptocurrencies in the market today, with the aforementioned Solana Pay-Shopify integration being the biggest reason.
This integration will enable merchants who use Shopify to choose Solana-based USDC transfers as a payment option for themselves and their customers, something which could result in considerable growth for Solana and its network.
Such an integration comes at a favorable time for Solana, which has enjoyed a notable recovery since its 2022, which was blighted by numerous damaging outages.
However, Solana has recently celebrated six months of continuous uptime, something which suggests it is well and truly back as a serious rival to Ethereum and other layer-one smart contract platforms.
And while Solana's total value locked in remains relatively low, at $313 million, this highlights serious scope for further growth and recovery, thereby pushing up SOL even further.
As such, it can be expected that SOL's higher volumes – possibly caused by an uptick in whale accumulation – will help it reach $25 or $30 in the next couple of months, with the altcoin potentially on course to make it $35 or $40 by the end of the year.
New Altcoins Offer Market-Beating Gains
SOL has now arguably restored its place as one of the strongest altcoins in the market, yet it isn't the only token that currently offers the potential for significant gains.
Also showing promise are a number of presale tokens, with several of these potentially in line to rally big once they list on exchanges.
One prime example of this Sonik Coin (SONIK), an ERC-20 meme token that has raised $400,000 since beginning its presale just over a week ago.
As suggested by its name, SONIK has drawn inspiration for its memes from Sonic the Hedgehog, albeit with an added dose of edginess and in-you-face humor.
With an overall supply of 299,792,458,000 (the speed of light in mm/s), SONIK is aiming to replicate the speed of its namesake and become the fastest cryptocurrency to reach a market cap of $100 million when it lists on trading platforms.
50% of its max supply has been allocated to its sale, with another 40% reserved for staking rewards.
This makes SONIK a highly decentralized meme token, thereby reducing the risk of big dumps and selloffs from larger holders.
At the same time, the ability to stake SONIK should not only provide holders with a source of passive income, but will also help restrict the coin's circulating supply, in the process helping to support its price.
This makes SONIK one of the more promising presale tokens available right now, with investors able to participate by visiting the coin's official website, where 1 SONIK costs $0.000014.
With less than two weeks before the sale ends, buyers will need to act fast if they want to secure some SONIK, which is in a good position to rally way beyond its current asking price once exchanges begin listing it.
Visit Sonik Now
Disclaimer: Crypto is a high-risk asset class. This article is provided for informational purposes and does not constitute investment advice. You could lose all of your capital.