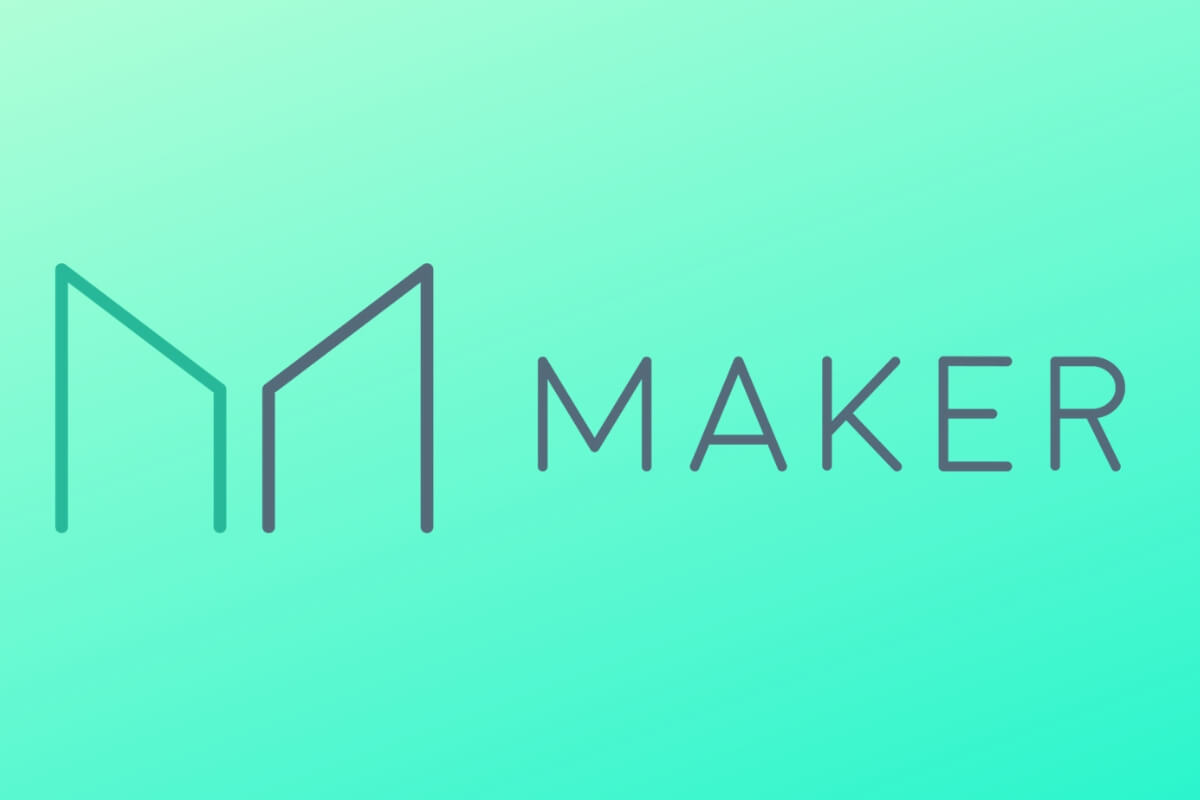 Maker MKR's price on September 5, at 4:10 a.m. EST, is $1,129, with a 3% increase in the last 24 hours. Also, the previous seven days have been bullish for the token, with an 11% increase. 
The present price action implies that the buyers control MKR's price, although the sellers are still active. But what factors drive this price gain, and will it continue? 
SparkLend Driving Growth and Adoption in Maker Ecosystem
On August 31, Maker Dao enlightened the community on the benefits of SparkLend ahead of their conference in Korea on September 3.
As we mark our presence in Korea, the team behind Spark's development is gearing up to enlighten with talks and provide support for the @ethconkr hackathon participants.

Joining us in Korea? Familiarizing yourself with Spark's fundamentals is a great start.

Let's unpack… pic.twitter.com/BqhcLPexIw

— Maker (@MakerDAO) August 31, 2023
According to the Tweet, SparkLend is a next-generation lending platform for DAI users built on the Spark protocol. Spark is a DAI money market protocol powered by Maker that combines Maker's liquidity with a quality decentralized finance approach. 
Also, no matter how many times a user borrows or how much, the rate remains constant at 5% for all borrowers. With SparkLend, users can deposit high-liquidity assets like ETH to borrow DAI at a fixed rate from Maker. 
However, the lending protocol is unavailable to users in the United States and those who use VPNs.
The introduction of SparkLend is likely driving more users to adopt Maker as their liquidity and DeFi platform, leading to a spike in the value of MKR tokens. 
Whale Went Bullish on MKR Balancing a Significant Sell-Off
The last phase of Endgame is the launch of a native blockchain for Maker with the codename NewChain

It will make the ecosystem more secure and efficient

After some research, I believe the Solana codebase should be considered as the basis for NewChain

— Rune (@RuneKek) September 1, 2023
On September 1, the co-founder of MakerDAO, Rune Christensen, stated that the upcoming native chain of MakerDAO (NewChain) should build on the codebase of the Solana network.
This move to pick Solana over the Ethereum Virtual Machine (EVM) resulted in Ethereum's co-founder Vitalik Buterin selling his MKR holdings from 2020 for ETH. Buterin sold 500 MKR tokens for 353.4 ETH, valued at approximately $579,000. 
VITALIK BUTERIN SELLING ETH ON EXCHANGES

— Whale (@WhaleChart) September 4, 2023
Such whale movement often results in negative sentiments among investors for a token. However, according to Lookonchain data from September 4, another whale spent 694 ETH ($1.13 million) to purchase 1,010 MKR at $1,122 each.
Another whale also spent 694 $ETH($1.13M) to buy 1,010 $MKR at a price of $1,122 after this giant whale withdrew 11,231 $MKR ($12.3M) from #Binance.https://t.co/HtDqxNYLyLhttps://t.co/4atyyejMwJ pic.twitter.com/LGa8iRKW8T

— Lookonchain (@lookonchain) September 4, 2023
Also, the whale withdrew 11,231 MKT tokens from Binance before purchasing. The whale's purchase likely balanced Vitalik Buterin's sale of his MKR tokens, thus leading to a price increase.
MakerDAO co-founder responded to Buterin's actions in a tweet stating that Solana, Ethereum, and Cosmos are great and blockchains are increasingly interconnected. 
Guys…

Ethereum is great

Solana is great

Cosmos is great

etc.

All chains are increasingly interconnected and synergize to form a global multichain network economy.

Tribalist incels(of every flavor) are in the wrong decade, go back to bitcoin and let the rest of us build.

— Rune (@RuneKek) September 2, 2023
However, he stated that tribalists focusing on only one chain are in the wrong decade and should return to Bitcoin so everyone can build. 
This remark likely refers to Vitalik Buterin and his reaction to the MakerDAO Solana project. Overall, MKR tokens gained from the whale movement in the MakerDAO ecosystem. 
Bears Losing Grip as Buyers Return
MKR rally on August 31 was halted on September 1, as selling pressure increased on the asset due to negative sentiment. However, the buyers re-entered the market on September 4, stopping the downtrend and sparking hope for another rally.  
MKR is trading above its 200-day Simple Moving Average (SMA) and about to break above its 50-day SMA expressing a bullish sentiment. 
Although it formed red candles from September 1-4, it still shows signs of a possible rally ahead. The Relative Strength Index (RSI) indicator moves sideways in the neutral zone and displays a value of 51.69. 
If the RSI rises, it will provide an ideal entry spot for long traders and a break out of the neutral zone. The Moving Average Convergence/Divergence (MACD) is above its Histogram bars, indicating increased buying pressure. 
However, the fading MACD Histogram bars suggest the possibility of a retracement. MKR's next price moves rely on its ability to overcome its nearest resistance. 
Maker MKR Close To $1,115 Support Level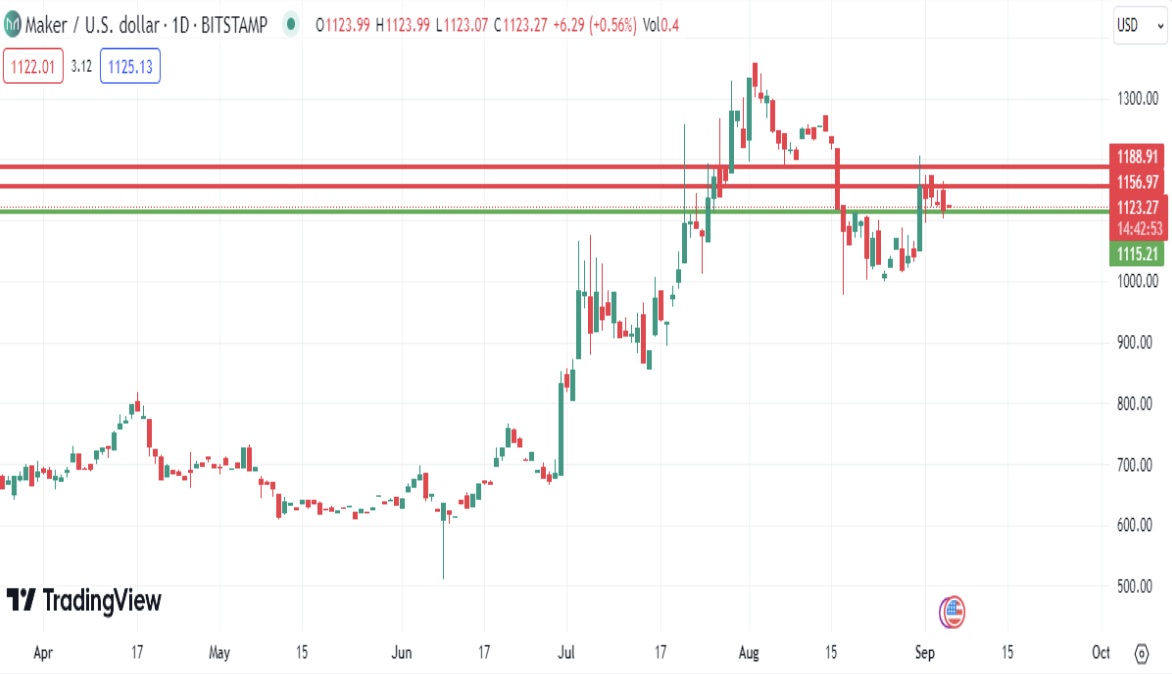 MKR is trading slightly above the $1,115 support level that has sustained it from further decline since August 31. It faces stiff resistance at $1,156, with the sellers limiting MKR from breaking above this level since August 31. 
The indicators suggest that the bulls and bears are evenly matched, presenting a tricky market situation for traders. However, if MKR breaks above the $1,156 resistance level, a return to $1,188 is the next realistic profit target for the token. 
MKR will likely trade below the $1,156 resistance in the coming day till the buyers force another rally above this level. While MKR's price action displays traders' indecision, the fastest memecoin presale, Sonik Coin, is racing to its end today. 
Sonik Coin Presales Ending In One Hour Act Fast
With a market cap goal of $100 million in sight after its listing, now is the time for investors to link up with the presale and accumulate these tokens at $0.000014. 
Purchase $SONIK with ETH or USDT ahead of a potential price surge after listing for paper rewards. 
Over $1.5 Million Raised
$SONIK presale is close to the Sonic Boom Sellout target, with over $1.5 million raised out of the goal of 2.9 million. These figures prove rising investors' interest in the ecosystem and its plan to reward investors with lightning speed. 
SONIK has a total supply of approximately 299.79 billion tokens, with 50% allocated to the presales, 40% for staking rewards, and 10% for liquidity. 
By 5:34 a.m. EST on September 5, over 46.46 billion tokens had been staked at an APY of 52%. Based on a user's stake in the Sonik Staking pool, the staking rewards will be distributed over four years. 
 Related News
Wall Street Memes – Next Big Crypto
Early Access Presale Live Now
Established Community of Stocks & Crypto Traders
Featured on BeInCrypto, Bitcoinist, Yahoo Finance
Rated Best Crypto to Buy Now In Meme Coin Sector
Team Behind OpenSea NFT Collection – Wall St Bulls
Tweets Replied to by Elon Musk