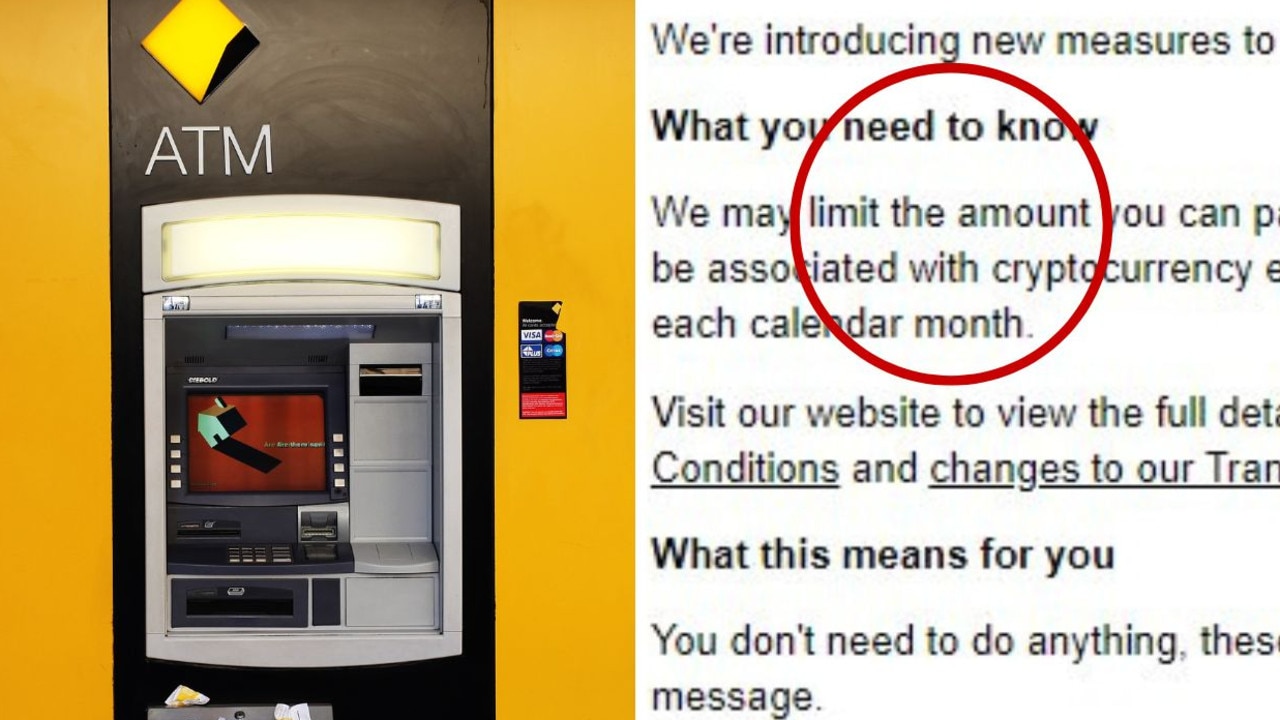 Commonwealth Bank has announced it will introduce transfer limits to cryptocurrency exchanges in an effort to fight growing threats from scammers.
But not everyone is happy about it.
The bank's new terms and conditions seen by news.com.au state it may limit transfer amounts to certain accounts or merchants, "for example those we believe to be associated with cryptocurrency exchanges," to $10,000 from all accounts each month.
The bank said the changes were due to rollout 30 days from the date customers received the notice.
"We'll continue to decline and hold certain payments to cryptocurrency exchanges," the conditions read, adding it will decline payments of more than $10,000 without notice.
Commonwealth Bank confirmed it would not restrict withdrawals from cryptocurrency exchanges to customer's accounts.
According to the CBA website, the move was due to "a growing number of customers losing funds to cryptocurrency scams".
"In other types of investment scams, customers think they are investing in particular investment categories other than crypto, however the scammer arranges for the funds to be paid to a cryptocurrency exchange instead," the website reads.
"The ACCC (Australian Competition and Consumer Commission) Targeting Scams report revealed over $220 million was lost to scammers through cryptocurrency in 2022. With this figure expected to rise significantly in the year ahead, we're implementing measures to help reduce the incidence of scams and fraud".
Cryptocurrency expert Ben Simpson revealed in a tweet he received a notice stating all of his business accounts would be frozen within 30 days if he was to buy more than $10,000 in cryptocurrency.
"A Business Account? That's been doing Crypto Payments for 3+ years? How does this actually help stop crypto scams?" his tweet read.
"Blanket rules don't help anyone. Disgraceful."
The tweet attracted comments from other concerned customers, including one which read: "Got the same thing. I am having trouble opening another business account now as well. Plenty of hurdles being thrown at us at the moment."
Another person wrote they were "dumping [CommBank] as we speak. Closing all accounts after 20 years with them".
One comment read that Commonwealth Bank "can get stuffed".
"They rang me, said people are getting scammed, I said 'no, I never have in six years, check my history'," it read.
"So now I transfer from my CBA to another bank. That seems fine".
But on a Facebook post in a Commonwealth Bank feedback group, some people defended the measure.
One customer shared CBA's terms and conditions on the changes, along with the words: "It's my money, I'll do what I want with it".
In response, one Facebook user wrote he understood the point, but noted customers "can't have it both ways".
"People have complained to the media and AFCA (Australian Financial Complaints Authority) that banks didn't take this type of measure to protect them from online scams and that the banks should have," he wrote.
"So the banks are in a lose, lose position. Either they help protect you from online scams and limit your transactions or they let you transfer out whatever amount to any type of company but then the customer has to take full responsibility."
Similarly to comments on Mr Simpson's tweet, several people said they would work around the new rules by transferring their money to another bank and then onto the cryptocurrency exchanges.
news.com.au contacted Westpac, ANZ and NAB to ask if they had implemented similar measures, or planned to do so.
And it turns out CBA is far from the only bank limiting cryptocurrency payments, with all three banks confirming some degree of similar moves.
NAB announced cryptocurrency transfer limits several weeks ago.
Chris Sheehan from the executive group investigations and fraud team told news.com.au he could not comment on the specific exchanges or what they deem "high-risk" for a number of reasons.
"But we have introduced these blocks where we identify a high proportion of payments going towards scams. Our decision to block payments to several crypto exchanges is consistent with broader industry action in reducing scam-related cryptocurrency payments," he said.
"We continue to monitor the rate of fraud and scams in relation to cryptocurrency exchanges, including the impact of these changes made, and may make further changes in the future if required."
"The decision to block payments to some crypto exchanges is the latest measure in over 60 initiatives underway or completed at NAB to reduce the impact of scams and fraud."
Westpac confirmed it was the first bank to introduce blocks for some cryptocurrency payments to fight fraud.
Without specifying the details of the blocks, Westpac Group Executive of Customer Services and Technology Scott Collary said the new security measures could save customers millions of dollars.
"Digital exchanges have a legitimate role to play in the financial ecosystem. But since the rise of digital currency, we've noticed that scammers are increasingly using overseas exchanges," Mr Collary said.
"Often our customers only discover they've been scammed after the money has left the country, making recovery extremely difficult. The trial of our new security measures will better protect customers from scams … in particular, investment scams."
An ANZ spokesperson said it implemented changes to combat scams, including those linked to cryptocurrency, in June.
"ANZ is continually reviewing and adjusting our capabilities to keep customers safe as new scams emerge and scammers change how they operate," they said.
"This includes preventing payments being made to particular high risk cryptocurrency platforms and introducing new holds and delays to some payment types and destinations. The threat of scammers is not new. Our advancements mean we are better placed to keep our customers safe from the threat of scams."
Read related topics:
Commonwealth Bank